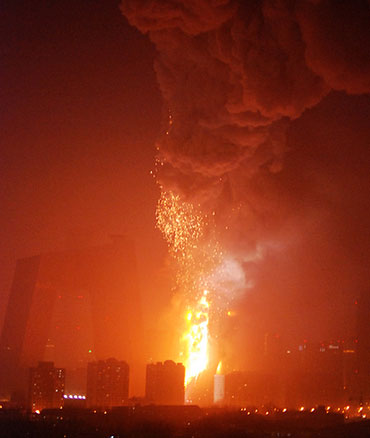 Today is
Friday the 13

th
and architecture has been a bit unlucky this past week.  On Monday, the 50-story Mandarin Oriental Hotel in Beijing, still under construction and due to open in May, burned to a crisp when an unauthorized fireworks display celebrating the
Lunar New Year
went horribly wrong.  One firefighter died in the blaze and six people were injured.  The hotel, designed by Dutch architect
Rem

Koolhaas
and his firm
OMA
, was part of
Central China Television's
(CCTV) new
headquarters
complex.  Unsurprisingly, CCTV has been careful to release only minimal information about the disaster through their own agency, reportedly covering the Australian wildfires much more than the fire in their own back yard.
When I first heard about the fire, I thought, "Wow, even
Koolhaas
' buildings can burn!"  The event felt like a bit of an equalizing moment and I had a very distinct "we all have to sit down to
you know what
, don't we" reaction.  I asked myself, "is this the end of the
Starchitect
?"
Thought I do not know when the terms "
Starchitect
" and "
Starchitecture
" were first used, I seem to recall them coming into frequent use more than a decade ago when Frank
Gehry's
Guggenheim Museum
opened in Bilbao, Spain.  Back in 1997, completion of the new building literally put an unheard-of town in northern Spain on the map for tourists and art aficionados around the world.  In 1998 when I entered Georgia Tech to study architecture, Bilbao was still fresh on
everyone's
mind, and the concept of the "
Starchitect
" was
ingrained
in us young, idealistic, star-crossed young designers.
For more than a decade now, architects like
Frank

Gehry
,
Zaha
Hadid
,
Norman Foster
,
Santiago

Calatrava
,
Renzo

Piano
, and Rem
Koolhaas
(to name a few) have been riding a wave of landmark, high-profile projects destined to transform cities in the way Bilbao was transformed by the Guggenheim.  In Beijing, the new CCTV complex, for example, along with the trendy
Olympic
architecture we all ogled over last summer, was intended to usher China into the new millennium in the eyes of the world.  Now with the burning of a landmark work of architecture by one of the world's most prestigious architects, are we supposed to think now that China is all talk?  After all, we know from the opening and closing ceremonies of the Olympics that China can put on quite a show when they want to, all the while controlling their very carefully-crafted "official" image.  What is the official story on this one?  This is a difficult event to sweep under the rug unnoticed.
I suppose it is a bit of an inauspicious moment for architecture, which is already starting to feel the pains of the global economic slowdown we can not seem to hear enough about in the media.  Just a few weeks ago, in fact, at a gathering with a few of my Yale classmates, I was saddened to learn that several of them had recently lost their jobs, even at prestigious, well-established architecture firms.  True, even I tend to get a little giddy when I see the next "new" thing from the big-name architects, but I also continue to struggle with the ego of it all, while all the while Beijing was burning.  What is it all for?  Is this the end of the era of the 
Starchitect
and the Bilbao effect?  Has the playing field been leveled?  (Alas, can I hope?)
And to further prove that even well-entrenched, 101 year old Modernist
Starchitects
must take a blow to their own ego from time-to-time, it was recently reported that
Oscar

Niemeyer's
project for the "Plaza of Sovereignty" to commemorate the 50
th
anniversary of the founding of
Brasilia
was halted before it ever started over what seem to be concerns about budget as well as preservation of the urban fabric of central
Brasilia's
Monumental Axis
.  Oh well.  At least even Modernism is up for preservation these days!
It's okay, Oscar, don't be discouraged.  Rem's got nothing on you!  You were designing icons while he was still in diapers!
[In an curious side note to the this story, I found it interesting to find online that 
conspiracy theorists
have been quick to point out how the fact that the structure of the Mandarin Hotel is still standing after its vigorous fire has 
proven 
that
7 World Trade Center
, which collapsed during a fire hours after the Twin Towers on September 11, 2001, was "
imploded
."  Some people just have to make trouble don't they!]